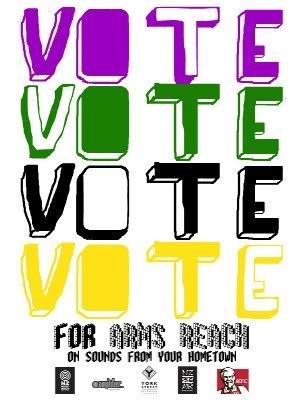 The worlds largest democracy has began its elections. Today, I used the ultimate power given to me as a citizen of india, rather i should say the minimal responsibility as a citizen of india. I thought after all the terrorists attacks, tv's showing corrupted M.L.A's and M.P's,insecurity in the public, all the  "PLEASE VOTE"  campaigns by celebrities ; I thought this time  around the voter turn out would be much higher than ever, atleast in my city, hyderabad.
                            The sad part was that my parents had a voter id, but did not have their names in the voter list, so they were not eligible for voting. But, strangely i had my name in the list. I was always curious to know, how do they vote like i know the process but  still i wanted to see it.when i was a kid always wanted to vote, no, not to change the country by my vote, but just for the fun of it.But,in the evening, when i saw the voter turn out statistics, i was really shocked. I never expected a 58% turn out in the capital city,in first place, atleast 60 % is minimum expected from the capital city, where you have all the literate people who talk about economy,politics and swear by the city. Where did all the hyderabadi's go???
I really don't know why, all the celebrities should take time to remind us to vote, I guess, its our courtesy to vote, to change the country, and elect people who are sane. We cannot leave our country to some cold murderer who  thinks politics is just another way of earning money. We might think that, our one single can't change anything, but according to EC, this time we have 10 million new voters ,  i think that is a huge number, which might make a difference, if every one votes. We spend money to send an sms to vote a contestant in a reality show, and make our beloved win the contest. But, why don't we go and vote which is for free and for our own good, and for the country.
Vote for  yourself, Vote for your country( india), Try and make it a better place.
Cheers!!!!
Peace!!!! 
P.S : voting is quite  hip these days....
P.S  : photos courtesy  google images